Moraira
Moraira (Valencian pronunciation: [moˈɾajɾa]) is a small, upmarket Spanish coastal town, part of Teulada (also known as Teulada-Moraira) municipality, in the Marina Altacomarca, 80 km north of Alicante and 100 km south of Valencia.
The town is located adjacent to the neighbouring village of El Portet and both communities form a tourist resort on the Costa Blanca strip, with 8 km of coastline backed by mountains and vineyards.
The Moraira valley is the convergent point of several mountain streams, which flow across the beach even during the driest August weather. Over time, these streams have deposited their rich alluvial soil on the valley bottom. To the north, the town is bordered by the Cap d'Or hillside.
Moraira boasts a very stable Mediterranean climate with approximately 300 sunny days a year. The summers are hot and the winters mild, with the surrounding foothills provide protection from harsh weather during the winter while creating a natural vortex for cooling sea breezes in the summer. The sea temperature during the summer months is up to 25 degrees and it hardly rains during the months July–August.
---
CALPE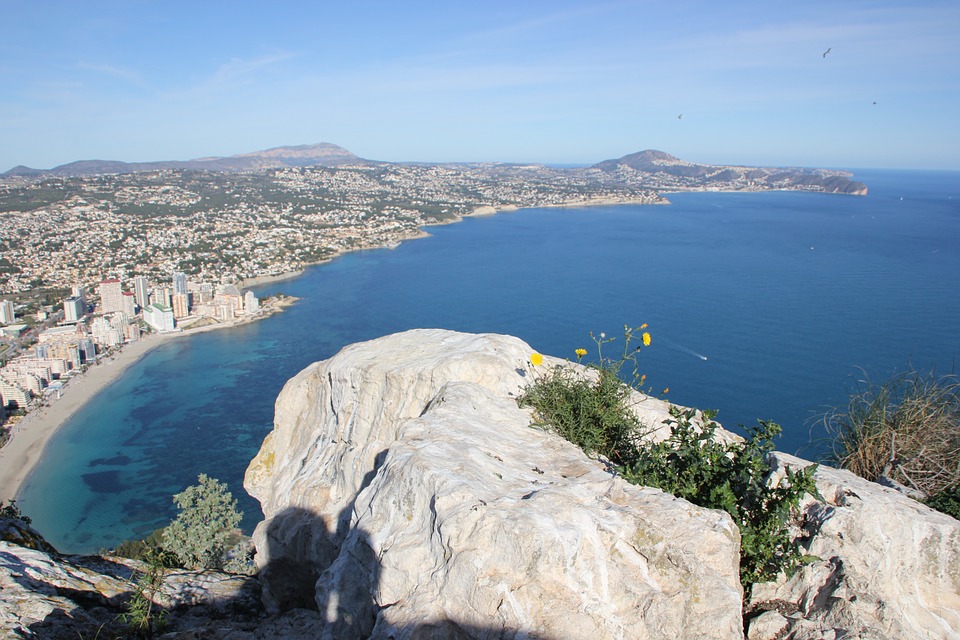 Calp (Catalan pronunciation: [ˈkalp]; Spanish: Calpe [ˈkalpe]) is a coastal town located in the comarca of Marina Alta, in the province of Alicante, Valencian Community, Spain, by the Mediterranean Sea. It has an area of 23.5 km² and a population density of 920 persons/km². The town is located 67 km from the city of Alicante and lies at the foot of the Natural Park of Penyal d'Ifac.
The economy of Calp is based mainly on tourism and fishing. Many Iberian, Roman and Arab archeological sites exist in the town because of its strategic coastal location.
Some of the most important monuments are the ruins of Els banyas de la reina (the queen's baths), the flooded salt flats, a bird sanctuary for migratory birds, its GothicCatholicchurch and the 18th-century tower of La Peça.